ACC Limited (ACC) is a leading player in the Indian building materials space, with a pan-India manufacturing and marketing presence. With 17 cement manufacturing units, over 90 ready mix concrete plants, over 6,600 talented employees, a vast distribution network of 50,000+ dealers & retailers and a countrywide spread of sales offices, it contributes tremendously to the landscape of the country.
For over 80 years, ACC has been synonymous with cement, establishing its reputation as a pioneer organisation that consistently sets new benchmarks in research and innovative product development.
History was created more than eight decades ago when the doyens of the Indian cement industry unified their operations to build the foundation of a company that has only grown stronger with every passing year. From the Bhakra Nangal Dam in 1960 to the Mumbai-Pune Expressway, ACC cement is at the heart of iconic landmarks across the country.
Our success over the years can be attributed to our unrelenting focus on customer centricity, ethical business practices and sustainable development. We pay tribute to our motto of 'Cementing Relationships' with every single interaction with our range of stakeholders.
ACC's brand architecture comprises the Gold range and Silver range of products assuring superior quality for general construction as well as for specialised applications and environments. The ready mix concrete product range provides one-stop solutions from basic requirements to high grades of concrete to build the country's tallest structures.
Sustainability is an integral part of our business strategy, with our Sustainable Development 2030 Plan focused on four broad themes: Climate, Circular Economy, Water & Nature and People & Communities. Our corporate social responsibility efforts benefit local communities across the country by furthering economic and social progress. ACC's earliest initiatives in community development date back to the 1940's – long before the term 'corporate social responsibility' was coined.
ACC was among the first Indian companies to include commitment to environmental protection as one of its corporate objectives. Since inception, we have integrated this commitment into all activities of our value chain, from mining to sales to promoting the use of alternative fuels and resources, resulting in one of the lowest carbon footprints in the cement industry.
In 2005, ACC became part of the Holcim Group of Switzerland. Subsequently, in 2015, Holcim and Lafarge came together in a merger to form LafargeHolcim – the global leader in building materials and solutions. Being a part of this large group has fuelled ACC's growth and the resultant technology sharing continues to help us stay ahead of the curve in the dynamic Indian market.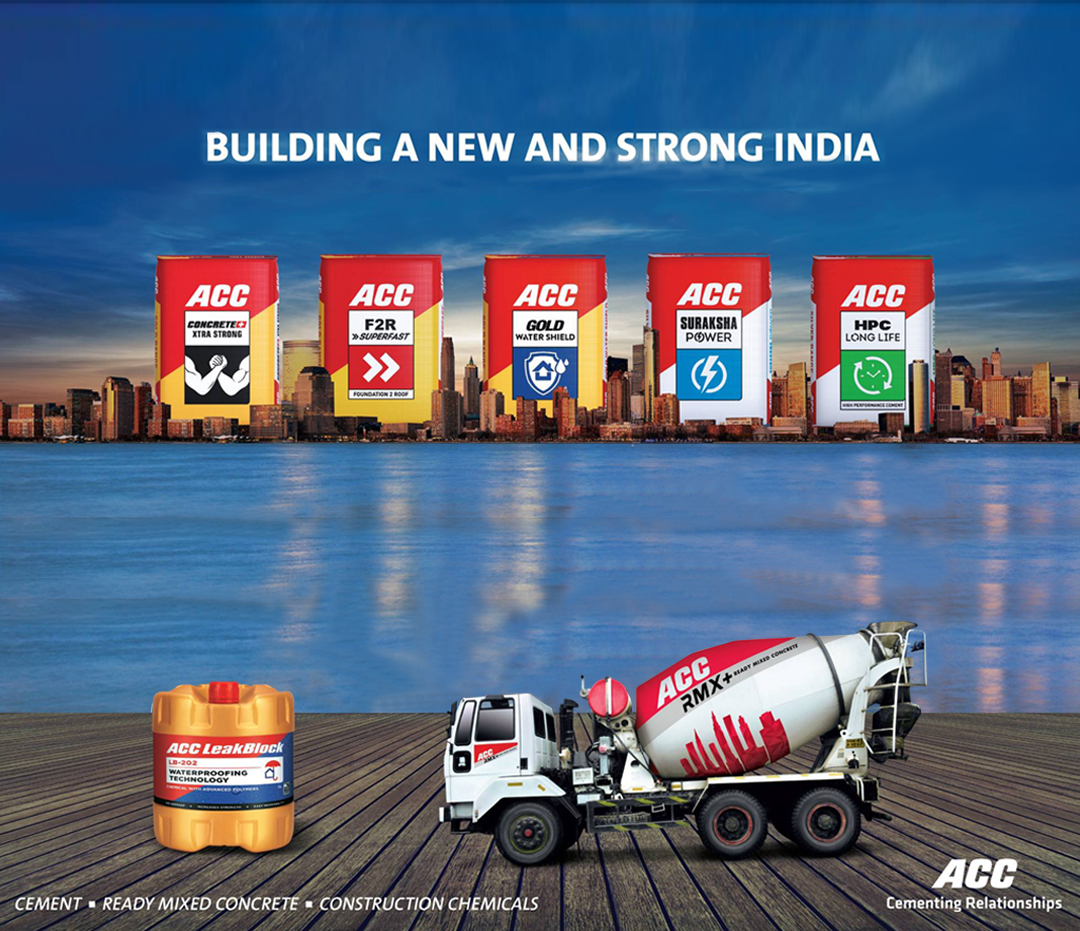 VISION
To be one of the most respected companies in India; recognized for challenging conventions and delivering on our promises.
PURPOSE
To be a driving force in creating a confident future for our people, our customers, our shareholders and our nation.
NETWORK
ACC Limited (ACC) is one of the leading players in the Indian building materials space with 17 modern cement factories, 90 ready mixed concrete plants, a vast distribution network of over 10,000 channel partners and a countrywide spread of sales offices. Headquartered in Mumbai, ACC's operations span the whole country with cement factories, ready mix concrete plants, regional offices, sales units and area offices.